How many years have you been practicing in Texas criminal appeals law?
I have practiced Texas criminal appeals law for my entire legal career.  I was licensed by the Supreme Court of Texas on June 10, 1977.  My first job out of law school was at the Department of Corrections representing my clients on post-conviction habeas corpus matters.  I was a staff attorney and general counsel at the Texas Court of Criminal Appeals for 24 years.  I am currently in my eighth year of private practice as a criminal appeals lawyer both in Texas and federal courts.
What is it about your experience that makes you stand out from other Texas criminal appeals lawyers?
One of the main differences is my extensive knowledge concerning the ways appellate courts work, think, and arrive at decisions.  My 24 years at the Texas Court of Criminal Appeals gave me unique experience that other criminal appeals lawyer do not have.  Those years have proven invaluable in my work on behalf of clients in all appellate courts at the state and federal levels.  Criminal appeals are a highly complicated area of law involving personal liberty.  No one should lose simply because an argument was poorly framed or a paper filed a day late.
Are you board certified in criminal appeals law?
I became certified in Criminal Law by the Texas Board of Legal Specialization in 1989.  I have been recertified by the Board on four occasions and continue to maintain my certification in Criminal Law.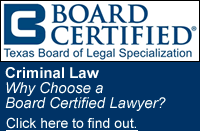 Earlier this year, the Texas Board of Legal Specialization created a new specialization in Criminal Appellate Law.  I have applied for certification in criminal appeals law and expect to be in the first group certified before the end of the year.  At that point, I will be one of the few criminal appeals lawyers in Texas certified in both areas.
What does board certification mean?
Board certification means the State of Texas recognizes a lawyer as a specialist in a particular field of law.  A lawyer who is board certified in criminal law is considered by the courts of Texas to be a specialist in criminal law.
The Texas Board of Legal Specialization has established very strict standards for board certification in several different areas of law.  The standards for board certification in criminal law are among the most stringent.  A lawyer must have several years' experience handling many criminal law cases, including trials and appeals.  A lawyer must also produce testimonials from judges and lawyers confirming that lawyer's expertise.  The lawyer must then take a written criminal law exam.
Lawyers who meet all of the standards and who pass the written exam are board certified for five (5) years.  Board certified lawyers are also required to take additional hours of continuing legal education above and beyond that required of other lawyers.  Board certification has to be renewed every five (5) years.
Are all lawyers board certified?
No.  Only about 10% (1 out of 10) of all lawyers in the state of Texas are board certified.
Related posts: